What to Expect from a Rolls-Royce Black Badge Interior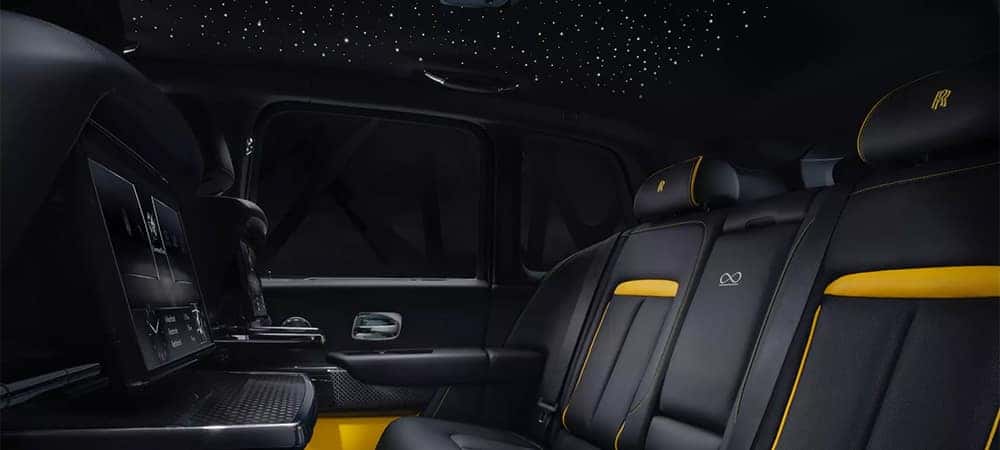 Currently, the Rolls-Royce Black Badge treatment is available on three models: the Rolls-Royce Wraith, the Rolls-Royce Dawn, and the Rolls-Royce Cullinan—but which of these remarkably luxurious vehicles is right for you? To answer that question, you'll need to find out exactly what to expect from the Rolls-Royce Black Badge interior of your choice.
---
Enjoy Iconic Rolls-Royce Black Badge Interior Features
Although the essence of luxury is customization—and you'll have plenty of opportunities for customization if you choose a Rolls-Royce Black Badge model—it's important to get a sense of what features set the Black Badge models apart from other models in the Rolls-Royce lineup.
The brand's famous Starlight Headliner is one of the most famous features in the world, and it's included in every Rolls-Royce Black Badge interior.
Upscale interior materials impart a completely unique experience, no matter where your Los Angeles and Glendale drives take you. Look for richly-textured three-dimensional carbon fiber, diamond and pearl-tipped finishes, and bright, contrasting accents throughout the cabin.
The most inviting genuine luxury leather in the deepest black hues is the standard for the Rolls-Royce Black Badge lineup, but even bolder colorways are available for those who want to own a truly singular vehicle.
Many features in your Rolls-Royce Black Badge interior will be emblazoned with the Lamniscate, or infinity symbol, which once designated record-breaking water speeds.
Stepping into the vehicle is an unforgettable experience in its own right. The Comfort Entry System opens your doors with just a single touch.
Behind the wheel, you'll have the most advanced technologies at your full disposal. The head-up display and the Spirit of Ecstasy Rotary Controller put you in full command. When darkness descends, infrared cameras heighten your senses and provide a one-of-a-kind Night Vision experience.
Naturally, the different Black Badge vehicles are distinguished by unique features as well. Models like the Rolls-Royce Black Badge Cullinan stand out with generous lounge seating, a pop-up rear Viewing Suite, and much, much more. Contact us today for more information on the full range of options.
Custom Order Your Rolls-Royce Black Badge Today
Of course, your final suite of interior features will depend not only on your choice of model, but also on how you choose to configure and outfit your own path-breaking vehicle. If you'd like to design a Rolls-Royce Black Badge interior from the ground up, you've come to the right place. Custom order a vehicle of your own by sitting down with our team of experts or requesting more information from your home in Pasadena or Burbank. Even if you've driven luxury vehicles for your whole life, you've never experienced luxury like this.