Rolls-Royce Starlight Roof Headliner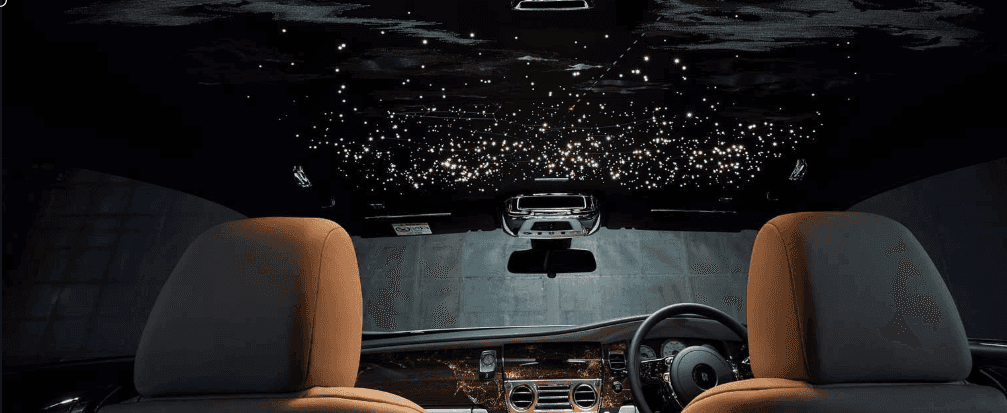 Are you looking for a completely new way to customize your Rolls-Royce interior? Select the Rolls-Royce starlight headliner to get in touch with your inner polymath and try your hand at translating personal imagery into the design of the Rolls-Royce roof with 1,900 stars. You'll work directly with Rolls-Royce designers to create a bespoke graphic pattern that can shine in any color or configuration. Below, we'll go into the details of creating each custom starlight headliner with hundreds of hand-placed fibre-optic lights on the interior or your Phantom, Wraith, or Ghost.
Custom Constellations: Do all Rolls-Royce Have Stars?
The Rolls-Royce starlight headliner is available in the Wraith interior, Phantom, and the Ghost. This spellbinding Rolls-Royce-exclusive feature incorporates between 600 and 1,600 hand-placed fibre-optic stars in your motor car's leather roof lining. Submit your customization preferences to receive a Starlight Headliner quote directly from Rolls-Royce, or give us a call at Rolls-Royce Motor Cars Pasadena, and our team can answer your questions on the starlight headliner roof price and custom options. Interested in a star headliner with 2,900 stars? You'll want to contact our team to learn more.

So, what can a Rolls-Royce with a star ceiling car of 1,900 stars do? You can brighten or dim the "stars" to fit your mood with the car's infotainment system, and there are almost limitless choices when it comes to designing your unique headliner. Custom possibilities include:
Depicting the constellations precisely as they were on any day in modern history.
Arranging the stars in any graphic pattern, such as your family coat of arms.
Programming your stars to shine in any color.
Crafting Your Starlit Sky: How Much is a Rolls-Royce with Stars?

The pricing depends on what you opt for. Rolls-Royce hires skilled craftspeople to install each starlight headliner completely by hand. The process typically takes nine hours per car for two craftspeople to complete, but this can take up to 17 for a custom template. The first step is to perforate the leather with 600 to 1,600 holes, carefully counting each. The lights need to be set perfectly on the visible surface, and secured at the right height on the concealed side. So, no matter if you choose the Star roof car with 3600 lights or the star headliner with 2,900 stars, you'll have a clear view. The starlight headliner's unique effect of stars at different depths is achieved via fitting delicate fibre optic strands at varying depths and at different angles, so that light escapes at different intensities.
Explore your Unique Starlight Headliner Options at Rolls-Royce Motor Cars Pasadena
Visit us at Rolls-Royce Motor Cars Pasadena for more on the starlight headliner or other Rolls-Royce custom upgrades, like whether you'd prefer the moonroof or sunroof. We're happy to show you our inventory of the all-new Rolls-Royce Cullinan and Black Badge Cullinan off-roaders, show you our Rolls Royce stars up to 3,600 stars, and share our car-buying tips and tricks. Come and experience the Spirit of Ecstasy today or learn more about the Rolls-Royce Black Badge Wraith!