Why Is My Rolls-Royce Leaking Water?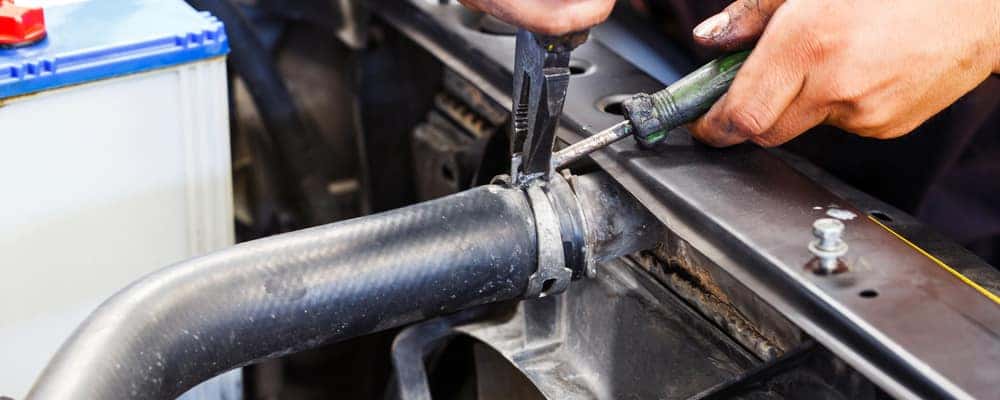 ---
Is water leaking from under your Rolls-Royce? If it really is water that you're dealing with, the good news is that it's probably not serious. If your car is leaking water, there are two especially likely causes:
All air conditioning and climate control systems attract condensation, and when you turn off the engine, this water may pool near the back of the engine compartment. This is especially common in the heat of Glendale or Burbank.
It's completely normal to notice small puddles of water near your tailpipes. This is simply condensation from your exhaust.
Next Steps: Is Your Rolls-Royce Leaking Water, or Something Else?
Water leaking from under a car is usually normal, unless it's coming out in especially large quantities. You should also be aware that the fluid leaking from your car may not be water after all! Here's what to look for:
Blown Gasket: A significant amount of water flowing your tailpipe may point to a blown gasket, which could start burning coolant along with fuel. If this is the issue, you will also notice significant amounts of white smoke.
Service Fluid Leak: Place a piece of white paper underneath the leak, and let it sit. Then, check the color of the leaking fluid! While coolant (appearing blue, green, or yellow) is one of the most common leaks, you'll want to check below to learn more. If it is coolant that you're dealing with, you'll want to add more of the proper coolant immediately, and visit our service center as soon as possible.
Windshield Wiper Fluid: This isn't very common near Los Angeles, but especially cold weather may cause your windshield wiper fluid to freeze up and crack the tank! This will result in a light blue or green fluid leak beneath your vehicle.
Need to pick up more fluids or fix an issue? Explore our Rolls-Royce service specials to cut costs.
What Fluid Is Leaking From My Car?
If water is leaking from under your car, the fluid that pools should be completely clear. If it's not clear, or has a colored tint, it's probably not water that you're dealing with! Here's a quick guide to common service fluid colors, so you can determine the seriousness of your problem at home:
Red liquid is usually transmission fluid or power steering fluid. Transmission fluid may also appear orange, especially if it's come into contact with rust on the way down. Either of these service fluids may appear pink if they're relatively new.
Yellow fluid is generally radiator coolant. Heavily-used radiator fluid may take on an orange tint over time.
If you see a green fluid, you may be dealing with antifreeze. It could be leaking from your water pump, hoses, or radiator, so pay attention to the location.
Blue liquid is almost always windshield wiper fluid.
Brown liquid might be brake fluid, motor oil, or gear lubricant. If it's darker in color, you're probably dealing with brake fluid or older engine oil. Lighter brown fluid is usually new engine oil or lubricant.
We're Proud to Be Your Source for Rolls-Royce Service
If you're still concerned about your car leaking water, or think there might be a different problem with one of your service fluids, schedule service at Rolls-Royce Motor Cars Pasadena today. We'll determine the cause of your issue, and have you back on the roads near Glendale in no time.
Learn More at Rolls-Royce Motor Cars Pasadena
Rolls-Royce Motor Cars Pasadena congratulates our customers throughout Los Angeles and Pasadena on their recent purchase of a new or used Rolls-Royce from our dealership. As with any vehicle, however, a Rolls-Royce requires routine service to ensure that its expertly-crafted exterior, interior, and powertrain continue to function as best as they can. Fortunately, this is…

Selling your high-end exotic auto needn't be a headache–the Rusnak Luxury Consignment Program offers you an exciting opportunity to sell your premium pre-owned vehicle effortlessly. What is the Rusnak Consignment Program? Our team will sell your premium vehicle for you–we take care of the whole process, including showing, selling, housing, and advertising your vehicle. We'll…

Winter is finally over, and that means that it's time to schedule your routine maintenance for the new season. Colder temperatures typically keep our Pasadena customers from keeping up with the little things like tire rotations, changing the oil, and general tune-ups, but with everyone more likely to travel now is as good a time…