Exclusive Events on Rolls-Royce Whispers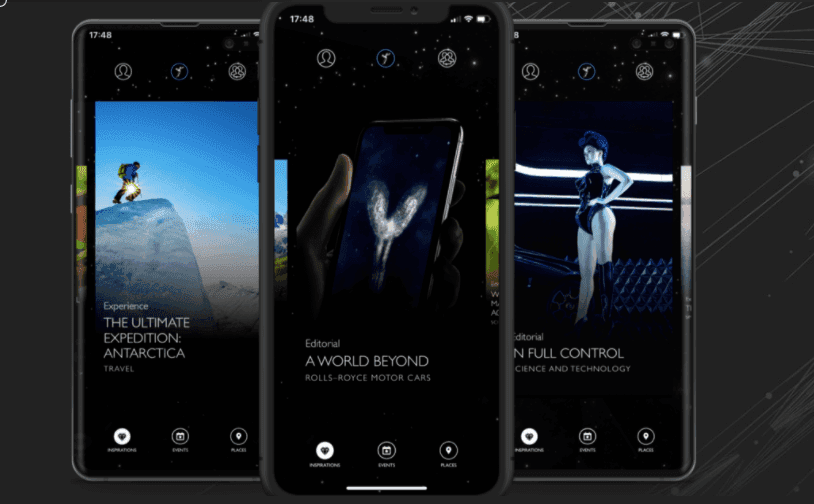 ---
---
Rolls-Royce Whispers is an exclusive community for the world's most enterprising individuals, the innovators, makers, and movers who drive Rolls-Royce vehicles. Available only by invitation or through verification of your vehicle's VIN number, the Whispers community is the ultimate social network. Of course, this app isn't just a great way for enthusiasts in Los Angeles and Glendale to connect with like-minded individuals. Log in, and you'll be instantly connected to exciting opportunities for adventure and excitement.
Plan the Adventure of a Lifetime
Rolls-Royce owners are always on the move. Whether you're the type to attend the Met Ball, the Olympics, or concerts around the world, you'll be able to rely on Rolls-Royce Whispers for access to the most exclusive opportunities and destinations. Here's how it works:
A Fully-Customized Experience: When you log in, Whispers will begin to learn what motivates you, and what ignites your desires. This is a network that knows how highly you value your time. Everything is customized and tailored to the eclectic taste of Rolls-Royce drivers, and you'll never see anything but the best of the best.
The World at Your Fingertips: At the bottom of the screen, you'll be able to select "Inspirations," "Events," or "Places." If you select "Inspirations," you'll be taken to an additional menu, and presented with Editorials, Experiences and Products. Book dinner reservations, a 5-star hotel room, or even a private concert, virtually anywhere in the world. Many options are completely exclusive to the Rolls-Royce community.
Virtual Events on the Rolls-Royce Whispers App: The Whispers app has been designed to help you forge an intimate connection with the wider world. Although you'll see many opportunities for off-line adventure, you'll also encounter a full suite of online courses, exclusive live-streamed events, and so much more.
Wherever your desires lead you, take the next steps by messaging or speaking to a Delegate from the team behind Whispers. Whether you're home in Burbank or halfway around the world, everything will take place securely in the app, within a matter of minutes.
Whispers is Your Gateway to Another World
No matter where you're coming from, you've never experienced the world like this. If you're the owner of a new Rolls-Royce, don't wait any longer to start exploring the world as it was meant to be seen.